TIRE SERVICE
When your car needs tire service, whether it's for routine maintenance or emergency repairs, give Audi Nashville's service center a call! Be sure to ask about service specials, too.
Benefits of Tire Service
From the stresses of year-round commuting to driving in winter weather and hitting potholes, your car's tires take a beating over their lifetime. While you can't avoid inevitable wear and tear on your tires or avoid every single curb and pothole, you can at least take measures to fix your tires when necessary. From tire balancing and rotation to changing seasonal tires and performing alignments, our experienced service team makes sure that you and your car are back on the road - safe and sound - as soon as possible.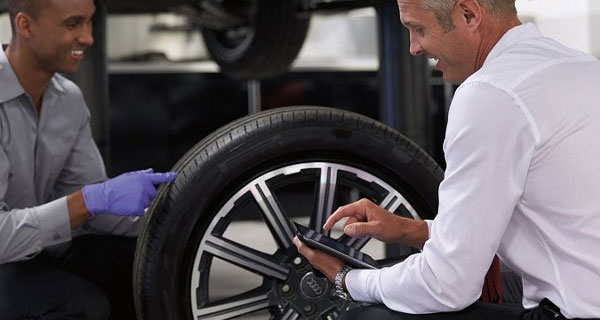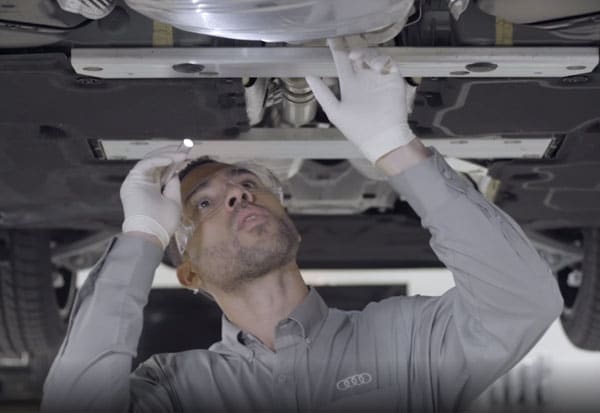 Customer Reviews
Audi Nashville
1576 Mallory Ln, Brentwood, TN 37027
Serving
Brentwood

,

Nashville

&

Franklin

Your tires need the occasional rotation to perform at their best. A general rule of thumb is to have your tires rotated when you bring your car in for an oil change, which is about every 3,000 - 5,000 miles. At a minimum, they should be rotated twice a year or every six months. Special consideration should be given to the "drive" tires on your vehicle, as they are subjected to more wear and tear. For the most accurate tire rotation schedule, it's best to check your owner's manual, which tells you when to rotate the tires based on your precise make and model.

Our expert service department has extensive experience in all aspects of tire service. Along with routine tire rotations, our service department changes seasonal tires, checks and balances tires, replaces tires, and performs all other tire services in between. We know that dealing with car issues is stressful enough, but you can rest assured you're in good hands knowing that we have a long history of performing tire service. We also service all makes and models for your convenience.
Nashville Tire Service
At Audi Nashville, we take pride in providing our customers with top-notch, professional, and friendly service. For that reason, when you bring your car to us, you can know that it will get both excellent care and quality parts. Audi Nashville exclusively sources original equipment manufacturer (OEM) parts for our customers' cars. The alternative option for car parts is aftermarket parts, which are used by many small and independent car shops. While many customers are eager to use aftermarket parts because of their lower price, they unfortunately often find that to be a mistake. Aftermarket parts, unlike OEM parts, are not backed by a manufacturer's warranty. They are also inconsistent in quality, which may end up meaning that you have to replace a part sooner than expected.
Hours
Monday

7:30 AM - 6:00 PM

Tuesday

7:30 AM - 6:00 PM

Wednesday

7:30 AM - 6:00 PM

Thursday

7:30 AM - 6:00 PM

Friday

7:30 AM - 6:00 PM

Saturday

8:00 AM - 4:00 PM

Sunday

Closed